Visits to Scarborough Lifeboat Station
Our new lifeboat station opened in 2017, as well as housing both of our lifeboats we now have a visitor centre which is fully disabled friendly.
The centre is open daily from 10.00 to 16.00hours apart from Christmas Day so you are welcome to come and view our current lifeboats and also view our history, when available members of our Visits Team are in the centre to answer your questions.
We also welcome group visits of all ages, these do have to be booked in advance visits can be done daily either morning, afternoon or evening. There is no charge to visit us but as we are a Charity relying on your generosity donations are very welcome.
SCHOOL AND YOUTH VISITS
Your visit will comprise of a short talk giving an overview of our history, our current lifeboats and our station. We also focus on Sea Safety and general Water Safety as our "Respect the Water Campaign" is trying to reduce drownings both at the coast and inland with our "Float To Live" message. The group will then be taken on a conducted tour of the lifeboat station. The session lasts between 60 to 90 minutes depending on the number of questions asked by the visitors! To book or enquire about a visit please click below.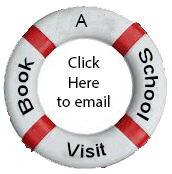 ADULT GROUP VISITS
Your visit will also commence with a presentation showing our history and how the service has evolved from its inception in 1801 to today. After this presentation you will be given a tour of the station allowing you to see both of our lifeboats and also the kit used by our crews. There is no restriction on you taking photographs and your guide will be able to answer those questions that you have always wanted to ask. We have a lift which is available for people with mobility difficulties. If you would like to bring your group or make an enquiry regarding a visit please click the button below.